Easily Track & Manage Time via the Internet
i-Timesheets - Compact Interface
The Compact Interface provides users with a neat and compact entry interface for core time-entry activities. This serves two very good purposes:
Smartphone Users: The Compact Interface is ideal for a mobile workforce using smartphones such as the iPhone, Android and Windows phones. Staff have access to core functionality including time and expense entry as well as the ability to submit timesheets for authorisation while working on-site or on the road.

Desktop Users: The Compact Interface also serves as an alternative interface for time entry on your desktop computer. The ability for the Compact Interface to maintain an active session coupled with start and stop timers makes it a useful tool for continuous time entry on multiple projects and tasks during the day.
Features
Compact Interface features include:
Secure login
Weekly and daily timesheet view
Time and expense entry
Time entry validation
Timesheet submit
Start/Stop time recording
Maintain active session
Colour schemes and themes
Ability to quickly and easily switch between Compact and Desktop Interface
Support for smartphones running industry standard web browsers
Access Details
Here are the methods available for accessing the Compact Interface:
via Smartphone
Apple iOS

On your device, go to the following URL
/tplogin
Tap on the Share icon at the bottom.

Select the Add to Home Screen icon then tap on the Add button.

Tap the App and login.


Android

On your device, go to the following URL
/tplogin
Tap the Menu button in Chrome.

Tap Add to homescreen - you'll be able to enter a name for the shortcut.

Tap the App and login.

via Desktop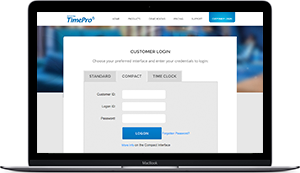 Click on the Customer Login option on the home page of our website. Choose the Compact tab and enter your login details.
URL:
/login.asp
Switch View
Change your view from the Compact Interface to the Desktop Interface and visa-versa using the 'Switch View' button. The 'Switch View' button is available on the Timesheet View screen on both the Compact and Desktop Interface.
| | | |
| --- | --- | --- |
| via Smartphone | | via Desktop |
Products

Features by Industry
Features that make i-Timesheets ideal for the following industries:
Trusted by