Time Clock Interface
i-Timesheets Time Clock Interface uses web technology to modernise traditional employee punch in/out time clocks.
Using i-Timesheets, Customers can setup a web-based Time Clock on virtually any device that supports an industry standard web browser and is connected to the Internet.
Information captured is immediately available to Administrators using our flagship time tracking and management solution – i-Timesheets. This live information is available for analysis, reporting and integration with accounting systems including MYOB, QuickBooks and Xero.
Screenshots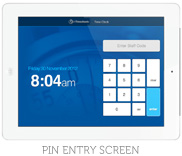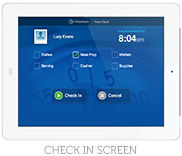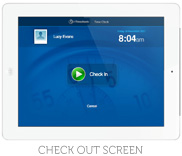 Stand Options

Mounting options to suit your needs:
Floor Stand $800 AUD*
Wall Mount - $500 AUD*
Desktop Stand - $300 AUD*
* Plus shipping
If you have been searching for an affordable web-based Time Clock solution to track your employee attendance at the factory or outlet then contact us for a demo or email sales@i-timesheets.com
Access Details
There are two methods available for accessing the Time Clock Interface:
Click on the Customer Login option on the home page of our website. Choose the Compact tab and enter your login details.

Copy/Paste the following URL into the web browser on your tablet.
/tplogin/timeclockdefault.asp
* We suggest you add a bookmark on the device for easy access to this link in future